Two more Emergency Response virtual meetings to wind up 2021:
August 10, 2021 at 6:00 pm
November 9, 2021 at 1:00 pm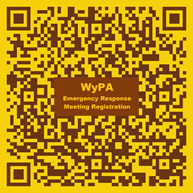 Register at: https://pipelineawarenessorg.wufoo.com/forms/wypa-emergency-response-meeting-registration/ Or the ER Meeting QR code attached. Login information will be emailed out the week prior to the meeting.
WyPA is presenting two more virtual trainings for Emergency Responders and Public Officials in 2021. Both are offered for the entire state. Please register for the meeting(s) that best fit your schedule. You are encouraged to share this information with your agencies and anyone in the Emergency Responder and Public Official roles.
This year's scenario includes an actual natural gas leak in an apartment building and includes live video from the scene. There are interviews with some of the individuals involved as well. The resulting interaction and discussions, which make these meetings so helpful, is greatly enhanced by having as many attendees as possible from these audiences. Pipeline operators from around the state will be in attendance to answer specific questions.
_______________________________
Upcoming Pipeline Member Meeting - October 19, 2021 at 10:00 am at the Hilton Garden Inn, 1150 N. Poplar St, Casper, Wyoming. Lunch will be provided. Please RSVP at: https://pipelineawarenessorg.wufoo.com/forms/wypa-member-meeting-registration/or use this QR code: