Last Emergency Response virtual meeting for 2021:
November 9, 2021 at 1:00 pm - Please register using this QR Code: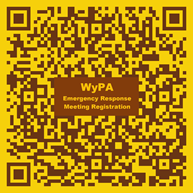 Or this link: https://pipelineawarenessorg.wufoo.com/forms/wlvqnj51bk8ny9/ 
Login information will be included in a reminder email the day before the meeting.
WyPA is presenting one last virtual training for Emergency Responders and Public Officials in 2021. It is offered for the entire state. You are encouraged to share this information with your agencies and anyone in the Emergency Responder and Public Official roles.
This year's scenario includes an actual natural gas leak in an apartment building and includes live video from the scene. There are interviews with some of the individuals involved as well. The resulting interaction and discussions, which make these meetings so helpful, is greatly enhanced by having as many attendees as possible from these audiences. Pipeline operators from around the state will be in attendance to answer specific questions.
_______________________________
WyPA Members
REMINDER:
WyPA Fall Member Meeting - October 19, 2021 at 10:00 am
In person at the Casper Hilton Garden Inn, 1150 N. Poplar St.
Lunch to follow
OR
Virtually via Microsoft Teams - Login Information below
________________________________________________________________________________
Microsoft Teams meeting
Join on your computer or mobile app
Click here to join the meeting
Or call in (audio only)
+1 469-998-7405,,737472888#   United States, Dallas
Phone Conference ID: 737 472 888#
Find a local number | Reset PIN
Learn More | Meeting options
________________________________________________________________________________
If you have not done so yet, please RSVP at: https://pipelineawarenessorg.wufoo.com/forms/wypa-member-meeting-registration/or use this QR code: